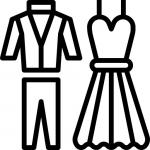 The Government has decided to conduct an experiment on marking certain types of clothes with identification signs. The experiment is to be conducted from 27 June 2019 to 30 November 2019.The goods that are in scope of the experiment include: working clothes made of natural or composition leather; jersey blouses, both machine and hand knitted for women and girls; coats, three-quarter coats, capes, raincoats, jackets (including skiing jackets), windbreaks, and similar products for men or boys; coats, capes, cloaks, jackets (including skiing jackets), windbreaks and similar products for women or girls; bed linen, table linen, toilet and kitchen towels.
The purpose of the experiment is to test the available technical means that are to be used for the subsequent mandatory identification marking of clothes and textile with the aim to prevent unlawful circulation of these products on the Russian market.
Market participants (e.g. importers, manufacturers or distributors) may voluntary participate in the experiment. In order to participate they are required to submit a relevant application.
The Government plans to introduce a procedure for the mandatory marking of the listed light industry products at a later date and after the completion of the experiment.
Law: Decree No. 790 of 22 June 2019 on Conducting an Experiment in the Territory of the Russian Federation of Marking of Certain Types of Light Industry Products with Identification Marks