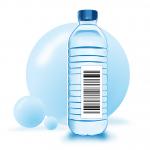 Packaged drinking water will be subject to mandatory identification marking.
The list of products subject to compulsory identification marking has been amended to include the following position:
Packaged water (including natural or artificial mineral, carbonated water, without sugar or any sweeteners or flavourings). This position does not include ice or snow.
The list of products subject to mandatory identification marking was adopted by Governmental Direction No. 792-r of 28 April 2018.
The exact date when the identification marking becomes mandatory is to be decided some time in 2021, based on the results of the experiment on marking packaged drinking water with mandatory identification marking. The experiment takes place from April 2020 until June 2021.
The mandatory marking will consist of a code in the Data Matrix form. All marked products will be traced at every stage of their sale and de-registered (removed from the system) after their final sale to the end user.