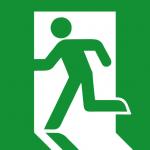 As of 1 October 2019, facility operators are required to ensure their safety signs comply with the revised edition of the Standard GOST 12.4.-26-2015 "Occupational safety standards system. Safety colours, safety signs and signal marking. Purpose and rules of application. General technical requirements and characteristics. Test methods".
This standard sets out the format of safety signs at facilities and organisations and the rules for placing health and safety signs.
The revised edition of the standard has a number of amendments, such as:
sign E23 "Additional exit" has been replaced with the sign "Emergency exit";

sign E10 "Evacuation exit door (left side)" has been amended;
sign M15 "Smoking area" (round) has been removed. All smoking areas must be marked by a square sign "Smoking area" D03.
Occupational health and safety specialists should exchange the "old" signs for "new" signs if required.
Law: Standard GOST 12.4.-26-2015 "Occupational safety standards system. Safety colours, safety signs and signal marking. Purpose and rules of application. General technical requirements and characteristics. Test methods"