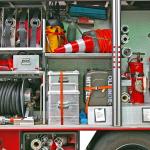 As of 1 January 2020, the EAEU Technical Regulation (TR) 043/2017 on Requirements for Fire Safety and Fire Fighting Devices entered into force.
The TR was adopted in June 2017 by the Council of the Eurasian Economic Commission (EEC).
The document applies to products that ensure fire safety, help prevent and extinguish fires, save property, save people from fire, etc. The list of products to which the requirements of the technical regulation apply is set out in the Appendix to the TR. The list includes fire extinguishers, fire extinguishing substances, fire engines, fire cabinets, annunciators, fire pressure hoses, special protective clothing for firefighters, fire equipment and numerous other product categories.
The technical regulation establishes uniform mandatory requirements, as well as basic concepts, rules for identifying fire safety and fire extinguishing means and their circulation on the common Union market. The TR also regulates conformity assessment procedure for fire equipment.
Manufacturers and importers of fire safety devices must ensure compliance with the adopted TR in a form of certification or declaration of conformity, depending on the degree and type of fire risk that a product aims to prevent.
The TR contains detailed requirements for fire safety devices and fire fighting products. For example, fire extinguishing substances must retain their firefighting properties during transportation and storage.
From the date the TR enters into force (i.e. 1 January 2020) it is no longer possible to issue or adopted any conformity assessment documents governed by the requirements that applied to fire fighting and fire prevention devices before the TR entered into force.
Conformity documents issued before 1 January 2021 will remain in force until 1 July 2021 which means that until 1 July 2021, fire safety and firefighting devices manufactured in accordance with the "old" requirements can still be manufactured and sold.