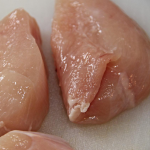 Poultry meat and poultry meat products that have obtained conformity assessment documents (Conformity Declarations) before the Technical Regulation on the Safety of Poultry Meat and Products (TR EAEU 051/2021) entered into force (i.e. before 1 January 2023) can be produced and sold in the EARU until 30 June 2024.
These products can remain on the marked until their "sell by" date which is determined by the product manufacturers. 
Law: Decision of the Board of the Eurasian Economic Commission dated April 19, 2022 N 65 "On the transitional provisions of the technical regulation of the Eurasian Economic Union "On the safety of poultry meat and products of its processing" (TR EAEU 051/2021)"