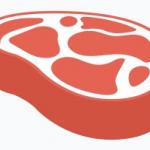 As of 1 January 2023, food business operators are required to use lactic acid to reduce microbiological contamination of beef in accordance with the adopted procedure.
The relevant enforcement authority is the National Food Agency.
The procedure provides that the lactic acid solution should be prepared only from the lactic acid that complies with the requirements set out in the Resolution No. 379 of the Government of Georgia dated August 7, 2019, "On the Approval of Technical Regulations - Specifications of Food Additives". 
 The lactic acid solution used for beef treatment:  
a) must be used only on whole, half or quarter meat of slaughtered cattle (including Bubalus and Bison species);
b) must be applied only by spraying or fogging, using a 2% to 5% lactic acid solution in potable water at a temperature not exceeding 55°C;
c) must be used under controlled and verifiable conditions integrated into a management system based on hazard analysis and critical control points (HACCP), including at least the criteria set out in the adopted Procedure.
Lactic acid solution should not be used on meat with visible faecal contamination.
The use of lactic acid solution should not lead to irreversible physical modification of the meat.
Article 3 of the Procedure sets out Hazard Analysis and Critical Control Points (HACCP) minimum criteria and control parameters. For example, the concentration of lactic acid during processing, as part of the Hazard Analysis and Critical Control Points (HACCP) plan, should be verified (confirmed) by periodic monitoring, documented and records should be kept.
A business operator that uses a lactic acid solution in a slaughterhouse to reduce microbial contamination of the surface of whole, half, or quarter meat must report such use to the business operator receiving the treated whole, half, or quarter meat. This information must be documented.
Image: Flaticon