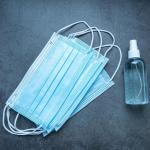 As of 25 March 2023, manufacturers and importers of personal protective equipment (PPE) in Moldova are required to comply with the adopted Technical Regulation.
The TR has been drafted in line with the EU legislation - Regulation (EU) 2016/425 of the European Parliament and of the Council of 9 March 2016 on personal protective equipment and repealing Council Directive 89/686/EEC.
The definition of PPE is identical to the one set out in Regulation (EU) 2016/425.
The manufacturers are required to provide user instructions and information set out in Annex 2 that includes the following:
a) instructions for storage, use, cleaning, repair, maintenance and disinfection. The cleaning, maintenance, repair and disinfection products recommended by the manufacturers shall not adversely affect the PPE or the wearer when used in accordance with the instructions;
b) test reports that were done to verify the levels or categories of protection provided by PPE;
c) accessories that can be used with PPE and characteristics of replacement parts;
d) protection classes corresponding to different levels of risk and associated use restrictions;
e) month and year or period of decommissioning of PPE or its individual components, as appropriate;
f) type of packaging required for transport, if applicable;
g) the meaning of any marking placed on the equipment (e.g. pictograms);
h) the risk against which the PPE is intended;
i) references to the Technical Regulation on PPE of Moldova;
j) name, address and identification number of the notified body or bodies involved in the conformity assessment of the PPE;
k) references to the relevant harmonized standards that have been used, including the date of introduction of the standards or references to the technical specifications used;
l) the internet address where the EC declaration of conformity can be accessed.
If the EC declaration of conformity is attached to the PPE, it is not necessary to indicate in the instructions provided by the manufacturer the information referred to in points i), j), k) and l).
All information must be provided in Romanian language.
The Declaration of conformity must also be written in Romanian.
Law: Technical Regulation on Personal Protective Equipment, adopted by Decree No. 108 of 23 February 2022