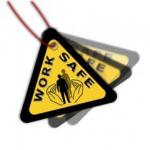 The Ministry of Labour and Social Protection of Russia has presented a proposal which aims to amend a number of regulatory instruments, including the Labour Code, the Law on Sanitary and Epidemiological Welfare of the Population, and some other legislation regulating occupational health and safety issues.
The proposed draft would make prevention of occupational accidents and illnesses one of the main principles of Russian labour law.  This means that employers would have to take a proactive approach and to identify and prevent any possible occupational health and safety risks before any accident or illness has actually occurred.  It would oblige employers to conduct professional risk management measures which are aimed at the identification, evaluation and mitigation of occupational risks.  This obligation does not exist at this moment, and employers normally take the reactive approach by responding to accidents which have already happened and by fixing a particular fault, not the system as a whole.
Furthermore, the draft law would introduce professional risk classification. All professional risks are to be classified into "permissible", "predictable", "increased" and "non-permissible". If a risk present at a workplace is classified as "non-permissible" as a result of a workplace risk assessment, the employer would have to immediately suspend or terminate the operation of such a workplace and implement measures to mitigate this risk.