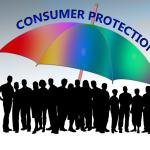 As of 17 January 2017 the amendments to the legislation regulating state supervision of providers of goods and services enter into force. These amendments apply only to consumer complaints about infringement of their consumer rights.
Thus, the grounds for a non-scheduled inspection of an organization or an entrepreneur include a complaint from a consumer, provided that this consumer has already tried to resolve the issue of consumer rights infringement directly with this organization or entrepreneur.
However, if an alleged breach of consumer rights represents a risk to life or health of people (i.e. any sanitary rules or technical regulations have been breached), then a consumer may report this breach directly to the authorities (RosPotrebNadzor), without having to attempt to resolve this alleged breach directly with the organization (or entrepreneur) that has committed the alleged breach.
Presently, requirements for products are set out in Technical Regulations of the Customs Union. RosPotrebNadzor supervises and enforces compliance with 21 Technical Regulations (TRs), including TR on Safety of Food, TR on Safety of Cosmetics and Perfumery, TR on Safety of Light Industry Products, etc.