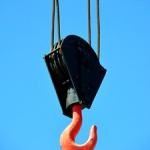 Federal Service on Environmental, Technological and Nuclear Supervision (RosTechNadzor) is planning to amend safety rules for major hazard facilities operating lifting equipment.
The existing safety rules apply to different types of lifting equipment, including:
Cargo-lifting cranes;

Bridge cranes-palletizers;

Pipe-laying cranes;

Hoists;

Lifting platforms intended for lifting people and cargo (working platform hoists);

Electrical tales;

Electrical rail trolleys;

Removable cargo-grabbing devices, such as hooks, magnets, etc. used for cargo lifting and moving; etc.
The amendments will mainly clarify the division of responsibilities between organisations that render services of provision (leasing of lifting equipment for the performance of construction, assembly and repair works and organisations that perform these works with the use of leased lifting equipment.  Currently, the responsibilities of each organization are not clearly defined. The existing safety rules for the operation of lifting equipment mainly prescribe requirements for organisations that operate lifting equipment. The term "operating organization" was only clarified in April 2016 and this term includes both organisations operating their own and those operating leased lifting equipment.
The amendments are likely to enter into force in September 2018 and the public discussion of the amendments will last until 29 September 2017.