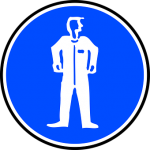 The recently published standards concern personal protective equipment for respiratory organs and eyes, special clothing, dielectric gloves and personal protective equipment that is to be used as fall protection during works at height.
GOST R ISO 13688-2016 "Occupational safety standards system. Special protective clothing. General requirements" contains requirements for ergonomics, safety, size labelling, wear and tear and general labelling of protective clothing.
Special protective clothing must not have any negative impact on the health and hygiene of the user. The materials must not emit any toxic, carcinogenic, mutagenic or allergen substances or to emit any substances impacting human reproduction system.
Such clothing must not have any protruding, hard, scratching or rough surfaces.
GOST 12.4.308-2016  "Occupational safety standards system. Personal protective equipment for eyesight. Laser protection goggles. General technical requirements and testing methods" regulates quality of materials used for manufacture of laser protection goggles. It also sets requirements for protective properties of such goggles: resistance to UV rays, high temperature, etc.
Both standards are available online in Russian language.