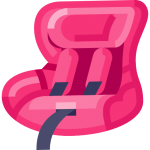 Previously the manufacturers and sellers were marketing seatbelt adjusters as child restraining safety devices and recommended to use them for transporting children in a car. But now, the so-called "strap positioners" are anything but safe.Currently, according to amendments to the UN Rules establishing requirements for child restraints, the "strap positioner" is an integral part of the child restraint system and cannot be officially approved separately as such a system. There is no longer any reason for Russian certification bodies to issue conformity certificates for such adapters ("strap positioners") as child restraints.
Currently, large retail networks, auto parts stores, and online platforms continue selling such products under the guise of child restraining safety devices. At the same time, manufacturers and retailers, offering such adapters and "strap positioners", pitch them as a simple and easy-to-use device that ensures the safety of the child passenger and is approved for use by the traffic police. All that misleads consumers and poses a potential threat to the life and health of children - passengers of vehicles.

The sale of the "strap positioners" under the guise of child restraints violates the consumer law requirements, including the right to receive reliable information about the product and the right to security of the goods. Indication of the name "child restraint" in the labeling of the "strap positioners" deceives consumers about the properties of this product and its application.

The State Road Safety Unit notes that according to the tests carried out, various kinds of seat belt adapters and "strap positioners" do not sufficiently protect the child in case of an accident. Therefore, parents should be careful when choosing passive security equipment for a child passenger under the age of 12 years. Adult road users must remember that it is only possible to transport a child in a car using a child restraint device fastened with seatbelts. When transporting minors, it is necessary to observe exceptional precautions, and by no means break road safety rules.