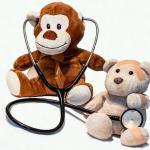 As of 24 February 2017 all toys placed on the market in Tajikistan are subject to certification procedure in accordance with the adopted Technical Regulation.
The Technical Regulation applies to products designed or intended, whether or not exclusively, for use in play by children under 14 years of age, subject to exemptions listed in Annex 1. 
According to the Technical Regulation, toys may not be placed on the Tajikistan market unless they comply with the requirements imposed by the Technical Regulation. Toys that are in compliance with the TR requirements must be marked with a conformity mark.
Chemical and sanitary requirements, as well as applicable restrictions and limits are provided in Annex 2 (Table 1) of the Technical Regulation.
Safety requirements are contained Chapter 5 of the regulations. All toys must be designed and manufactured in such a way that they do not pose a risk to the life and health of children and persons looking after them, provided such toys are used as intended.
Toys for children under 3 years old cannot contain fur, genuine leather, glass, porcelain, rubber, paper and cardboard, packing with granules of 3 mm or less without an internal cover, fillers the size of which in a humid environment increases by more than 5%.
Toys for children under 3 years of age must not contain any Class 1 hazardous chemicals.
Toy packaging must be safe and not present any risk of child suffocation.
Labels must be accurate, verifiable, clear, easy to read and accessible for inspection and identification. The marking must be applied by the manufacturer (or its authorised representative) and the importer, the placement and method of which may be determined by the manufacturer and importer. The label must include the following information:
the toy name;
date and place of manufacture;
the manufacturer's (or its authorised representative) name, address and contact information;
the importer's name, address and contact information; the manufacturer's trademark;
the minimum age of the child for whom the toy is intended, or a graphic representation representing the age of the child;
the main component materials (for children under 3 years of age) (if applicable);
care and maintenance instructions (if applicable);
expiry date (for food); 
product lifetime (if applicable); and
storage conditions (if necessary).
Law: Technical Regulation on the Safety of Toys adopted by Decision No. 375 of 23 August 2016